ŠANCE Job Fair at the Prague University of Economics and Business has been a long-lasting tradition for many years. The fair is held in two versions from spring 2021 – IN-PERSON and VIRTUAL.
IN-PERSON JOB FAIR
18. – 20. 10. 2022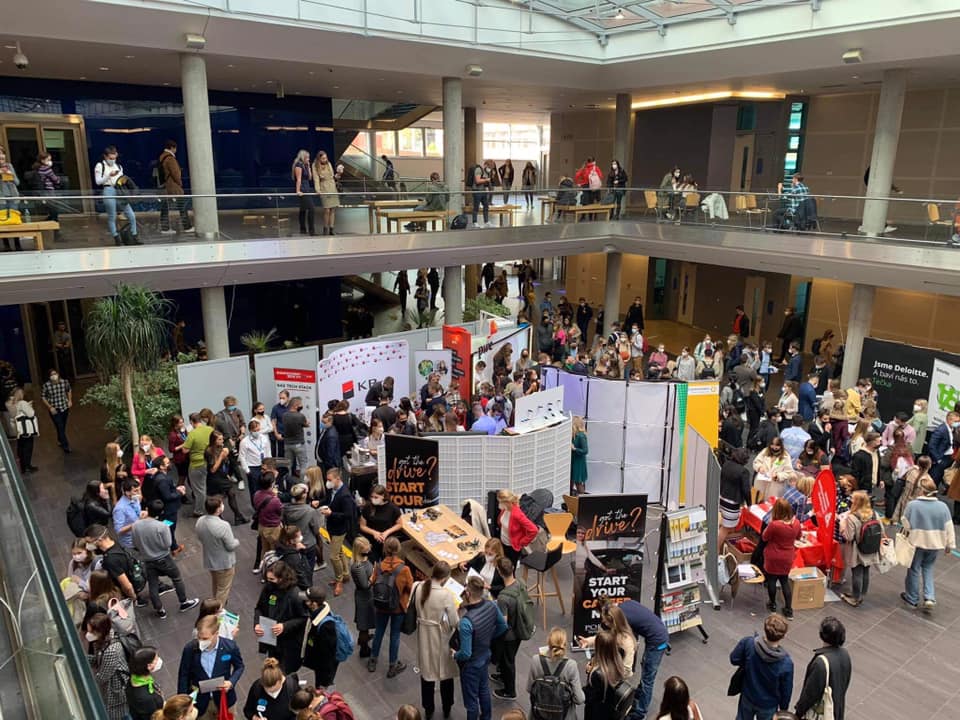 The more traditional, in-person job fair takes place at the Prague University of Economics and Business, in Rajská budova atrium.
It is normally held twice a year – in April and in October, is 3 days long – Tuesday, Wednesday, and Thursday between 10 am and 16:30 pm.
Due to high interest from exhibitors, there are different companies presenting each day.
Each company / institution can customise their own booth, as long as its dimensions are no larger than 1,5 m x 3 m.
A rich accompanying programme is provided for visitors, as well as contests to win great prizes.
VIRTUAL JOB FAIR
February 2023. The exact date is to be delivered.
Virtual job fair is held on beautiful tropical ŠANCE Islands, created, and tailored exclusively for further events at VŠE.
This fair is held once a year (early February) and takes place on a special 3D platform.
You can imagine the virtual fair like a computer game, every visitor roams around with an avatar.
The communication takes place using a microphone and a webcam, both switching on upon entering a booth or a chat-zone.
Virtual fair is quite similar to the in-person version, but thanks to its online nature you do not have to leave the comfort of your home, and there are many more advantages to it as well.
Advantages of a virtual fair:
less time consuming (you can join the fair from anywhere, even from abroad),
easier selection of potential employees (name, faculty and status of a visitor or exhibitor floats above each avatar),
better logistics (exhibitors send out their graphic background, setting it up with the booth is very easy),
much smaller impact on environment (no flyers or posters printed, less plastic and fuel waste),
getting more experience thanks to the platform being held at an unconventional setting,
each visitor can experience a brand new approach to getting a job offer and be ready for their next on-line job interview,
the custom avatar design and the overall experience from the virtual world has been much praised by the visitors.
Thanks to virtual ŠANCE Islands Job Fair you have an exclusive chance to visit a tropical archipelago. There is a broad accompanying program set-up even in the virtual world, as well as the contests to win great prizes.